ZZ TOP & XERF  – KING OF THE "BORDER BLASTERS"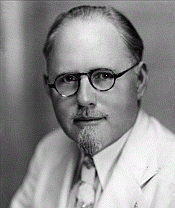 Dr. John Romulus Brinkley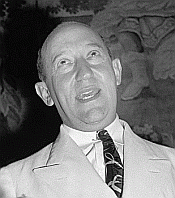 Dr. Morris Fishbein, editor of the Journal of the American Medical Association.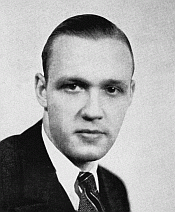 James O. Weldon,
XER's transmitter engineer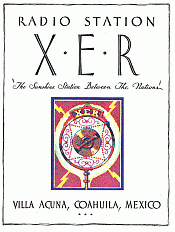 Cover page from an XER promotional brochure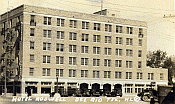 A postcard view of the Hotel Roswell in Del Rio, Texas – home of the XER studios.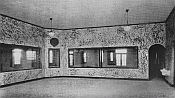 A view of XER's studio in the Hotel Roswell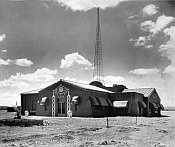 A closeup view of the XER transmitter building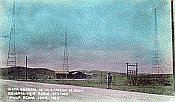 A postcard view of the XER building and towers in Villa Acuña, Mexico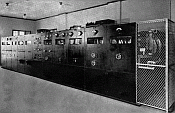 The original XER 50 kW transmitter.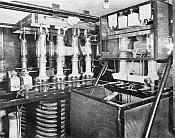 XER transmitter interior, showing the eight water-cooled vacuum power tubes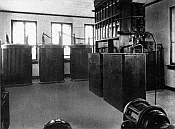 The transformers and motor generators that supplied power to the XER transmitter.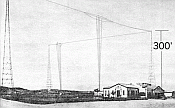 Diagram showing configuration of the directional antenna that aimed XER's signals to the north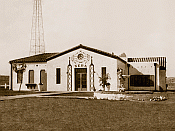 A view of the building a few years later, when the station was renamed XERA.

Another view of the XERA building, probably taken in the late 1930s.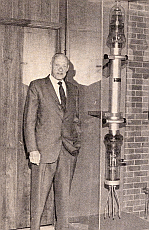 James Weldon in later years, alongside one of the huge water-cooled tubes that was used in the XER 500 kW transmitter.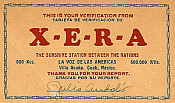 An XERA QSL card.
Edited from a post By John Schneider, W9FGH
The Attempt to Bring Order out of Radio Chaos
With the United States Radio Act of 1927, the AM broadcast band had devolved into complete chaos.  With 732 radio stations operating on 89 radio channels, there were too many stations interfering with one another.  Prior to, nobody held the authority to enforce assigned frequencies and transmitter power, and so, many stations were operating in complete disregard to their licensed frequency and power. The new Federal Radio Commission began the attempt to bring order out of the radio chaos by attempting to eliminate broadcasters not operating in the "public interest or convenience".  
 In 1928, the F.R.C. commissioners ordered 164 stations to justify their existence or cease broadcasting.  Among these, one of their chief targets was the popular station KFKB in Milford, Kansas, operated by the flamboyant but unscrupulous Doctor John Romulus Brinkley.  The "doctor" who did not possess a valid medical degree also ran the Brinkley Hospital in Milford, Kansas, and his signature procedure was the grafting of goat testicles into the genitalia of middle-aged men who yearned to rejuvenate their youthful sex lives.  This was very big business – although totally fraudulent and without any medical basis– and Brinkley had a corner on the market, amassing a substantial $$$ personal fortune in the process.  
 Brinkley's lifelong adversary was Morris Fishbein, of the Journal of the American Medical Association, who had built a personal vendetta to exposing medical frauds.  On several occasions, Fishbein had publicly exposed Brinkley as a "quack" and made it a personal goal to close down his operation.  In the process, Morris Fishbein approached the Federal Radio Commission to inform them that Brinkley was using KFKB to advertise his goat-gland procedure throughout the Midwest, and Brinkley was also dispensing medical advice and prescribing his own patent medicines over the air through his KFKB radio program called the "Medical Question Box". 
 The F.R.C. conducted a formal hearing in Washington in 1930, which resulted in the cancellation of Brinkley's license to operate KFKB.  Brinkley appealed to the D.C. District Court, which ruled against him in February, 1931, and was finally forced to sell KFKB in March, 1930 and moved it to Abilene, Kansas where it became KFBI, now KFTI in Wichita.  The same year, the A.M.A. was successful in convincing the Kansas State Medical Board to revoke Brinkley's license to practice medicine. 
 Signals from South of the Border
 Brinkley, never the kind of person who would ride quietly into the sunset, looked for a scheme that would allow him to sidestep the efforts of the two powerful organizations and keep his lucrative radio and medical businesses.  During a 1931 vacation in Mexico, he found his answer.
 For a number of years, the Mexican government complained to the United States over an inequitable distribution of broadcasting frequencies.  Because it had been an early adopter of radio broadcasting, the U.S. had grabbed all of the available frequencies for itself, ignoring Mexico completely.  When broadcasting in Mexico finally got under way, Mexico discovered that the broadcast band was overflowing with interference coming from its northern neighbor, whose government was unwilling to make any accommodations for Mexico.  By 1931, increasingly frustrated with U.S. intransigence, Mexican authorities were more than happy to consider Doc Brinkley's request to build a powerful new radio station on Mexico's side of the border.  Brinkley became a valuable player in their negotiations giving Mexico an advantaged opportunity to "tweak" the adversaries.
Thus it was that the construction of XER, the continent's most powerful radio station, began in Villa Acuña, in the state of Coahila, in the summer of 1931.  The towers were just a stone's throw from the Rio Grande River.  On the opposite side of the river was the city of Del Rio, Texas, whose city commissioners were overjoyed to have the economic boost the station would bring during the depths of the depression.  Further, Texas authorities were willing to license Brinkley to practice medicine and open a new hospital in Del Rio.  
 Engineering Genius
 Brinkley contracted with Will Branch, a prominent engineer from WBAP in Dallas, Texas, to put together XER's 50,000 watt transmitter, later rebuilt in 1933 for 185,000 watts.  It cost $175,000 to build, including $36,000 for the tubes alone.  Two 300-foot towers supported the flat-top wire antenna, oriented to maximize its signal across the border.  The XER studios were located in the Roswell Hotel in Del Rio, and a broadcast-quality telephone line was installed to carry the programs over the border to the transmitter.  Isaias Gallo, a Mexican radio & telegraph inspector, became chief engineer. The job of keeping the giant transmitter running would fall to the young engineer, James O. Weldon.  Weldon was a radio station broadcast engineer around the Midwest.   One of those stations was KFKB in Milton, Kansas, where he gained Brinkley's confidence as a competent engineer.  When Brinkley built XER, he brought Weldon down to Del Rio. 
 XER's gala inaugural broadcast took place on October 21, 1931.  XER was on the air daily from sunset to sunrise, taking advantage of nighttime atmospheric conditions to extend its signal across North America. Signal reports quickly came in, indicated that the powerful station was being heard in every state in the U.S. as well as 15 other countries.  Also, a flood of interference complaints were received as XER's frequency of 735 on the AM radio dial was sandwiched right between two powerful American stations – WSB in Atlanta, and WGN in Chicago.   Protests quickly filtered back to the Mexican government through official channels which placed Mexico gaining attention of the U.S. government. In August, 1932, Mexico immediately announced authorization to increase transmitter power for XER to 500,000 watts! 
Mexican Government Authority
The Mexican government disagreed with U.S. communications authorities for having licensed a powerful radio station to the foreign United States.  In 1933, Mexico levied fines of 350,000 pesos against stations for not broadcasting in English, and Spanish, both and also for transmitting program materials that did not conform to Mexican regulations.  Brinkley ignored the fines and orders to adjust his programming.  Ultimately, on February 24, 1933, Mexican Federal troops seized the transmitter building and attempted to shut down the station.  
 XER was off the air for 20 months.  During this time, Brinkley continued his medical broadcasts by leasing time on other American and Mexican stations.  He dissolved his Villa Acuña Broadcasting Company, and replaced it with "Cuidad Mexicana Radiodifusora Fronteriza", a Mexican corporation owned by a Villa Acuña restaurant owner, "Ma" Crosby of the famed borderline cafe, Crosby's Mexican Cafe.  In reality, she was the stand-in owner allowing Brinkley to remain in full control of the station.  Brinkley's new company purchased another "border blaster" station, XEA in Reynosa, Tamaulipas.
 Eventually, in December of 1934, a judge in Piedras Negras, Mexico, ordered Brinkley's station return to the air early in 1935.   It was assigned the new call sign of XERA and given a new frequency, 840 kHz, on the AM radio dial where it would begin interfering with WWL in New Orleans and KOA in Denver.  Brinkley returned to the air with his powerful 180 kiloWatt signal in 1935. 
 Rebirth and Super Power
 Once XERA was safely back on the air, Engineer James Weldon busied himself constructing an entirely new monster transmitter.  It consisted of two 250 kiloWatt power amplifiers that were combined for 500,000 watts of output.  It utilized the latest high power radio technology, including 8 of Western Electric's new 320A high power vacuum tubes.  It was also the first transmitter to use the new high efficiency Billy Doherty's "Doherty" amplifier design, the circuit's inventor, who came to Villa Acuña.
 The original XER transmitter was modified and now became a driver for this new high-power amplifier.  All construction and test work was done during daytime hours when the station was off the air, and the old transmitter was returned to service in the evenings.  Finally, on September 20, 1938, XERA commenced regular nightly broadcasts at a ridiculously powerful 520,000 watts. 
Not only was the new transmitter every bit as powerful as its more famous counterpart at super-station, WLW in Cincinnati, but Weldon had added a third tower and an additional parasitic elements to aim most of the signal to the north.  This antenna gain effectively doubled the transmitter power, giving XERA one million watts aimed squarely at the United States.  XERA now rightfully bragged that it was "the world's most powerful broadcasting station".  
 Pitchmen and Charlatans
During the next few years, XERA's powerful signal would blanket the United States coast to coast every night.  XERA had developed the success formula for "border radio" programming that would thrive on one border station or another for the next forty years.  In addition to transmitting Brinkley's medical programs, the station became a magnet for charlatans and shysters of all kinds who were not permitted on U.S. stations.  At XERA, anyone could broadcast if they could pay the hourly fee. Soon, the schedule was filled with astrologists, numerologists, fortune tellers, mining stock swindles and radio lotteries – and the money poured in through the mails from American listeners who happily paid for their services.  The typical fee was one $1, and there were so many one-dollar envelopes flowing into the post office that the city gained the nickname of "Dollar Rio". 
Other XERA programs featured Hillbilly and Mexican music, with the performers broadcasting from the XERA building across the Texas-Mexico border. The operation was headed up by New Yorker, Will Horowitz and Houston orchestra leader, Freddie Gibbons.  In 1938, the Consolidated Royal Chemical Corp brought "The Original Carter Family" to Villa Acuña to broadcast two daily radio shows at $75 each per week.  $75 was big money in those days when steady work was hard to find.    
During these years, Brinkley's income from his radio station and goat-gland hospital grew immensely. According to one estimate, he earned over $12 million between 1933 and 1938.  He constructed a palatial home for himself and his wife on a 16-acre parcel near the Rio Grande River, within sight of his radio towers.  The opulent mansion featured a dozen Cadillac automobiles, a three-story pipe organ, a greenhouse, a foaming garden surrounded by 8,000 bushes, a zoo full of exotic animals from the Galapagos Islands, and a swimming pool with a ten-foot diving tower. 
 The Brinkley Act, NARBA and Other Obstacles
 Temporarily defeated but undaunted, Brinkley's many enemies now sought new ways to knock him off the air.  As a part of the new Federal Communications Commissions Act of 1934, Congress incorporated a clause that is still referred to as the "Brinkley Act".  It forbad the transport of broadcast programs across an international border, by phone lines or any other means, without the prior approval of the F.C.C.   This caused the XERA program line between Del Rio and Villa Acuña to be shut off.  For its part, Mexico refused to authorize a visa that would allow Brinkley to cross the border and broadcast from the Mexico transmitter.  Brinkley could see his XERA towers from his palatial mansion in Del Rio, but he couldn't get there to do his broadcasts.   But once again outsmarting his adversaries, Brinkley continued to broadcast by recording his programs onto the newly-devised method of electrical transcription recordings.  The discs were smuggled across the border and played over the air at the transmitter.
 Meanwhile, U.S. negotiations with Mexico over frequency assignments had taken place, and Mexico was successful in pressuring the United States to reorganize the broadcast band, reserving several choice frequencies for Mexico.  Their occupants would be true Mexican stations – neither country intended that the Brinkley stations or other border blasters would occupy these channels.  The negotiations culminated in the 1937 Havana Treaty, which created the North American Radio Broadcast Agreement or "NARBA".  The treaty completely reorganized the AM broadcast band and allocated a specified number of "clear channel" frequencies to Mexico, Canada, the United States and several Caribbean countries.  The Mexican Senate ratified the treaty in December, 1939.  In order to comply with the treaty, most existing U.S. stations had to change frequencies, and radio's big moving day took place on March 29, 1941. 
 Expropriation
 Throughout the NARBA negotiations, Brinkley's XERA's transmitter was disassembled in July and taken to Mexico City, where it was installed at XEX due to Mexico's definition of Brinkley's XERA's "news broadcasts unsuitable for the new world" forcing Brinkley to Mexico City to sway the Mexican authorities.  On his return trip to Del Rio, Brinkley suffered a heart attack which left him in a deteriorated state of health.  
 The stress that affected his health was not entirely due to the problems at XERA.  In 1938, adversary, Morris Fishbein of the A.M.A., published an article entitled "Modern Medical Charlatans" in which he exposed Brinkley as "a blatant quack … of the crudest type".  Brinkley responded by bringing a $250,000 libel and defamation lawsuit against Fishbein.  In March of 1939, a Del Rio jury took up the case and ruled against Brinkley, affirming the veracity of his fraudulent operations.  The judgement opened the floodgates to an estimated $3 million in malpractice lawsuits from injured former patients and the families of deceased patients of his goat gland surgery.  Simultaneously, the Internal Revenue Service pursued him for unpaid back taxes and the Postal Service began investigating him for mail fraud.  This multi-pronged attack, carefully orchestrated by Brinkley's many enemies, caused him to declare bankruptcy in January of 1941.  The strain on his health continued, and finally, on May 26, 1942, a second heart attack resulted in his death.
 Postscript
 Like most influential people – both famous and infamous – "Doctor" John Romulus Brinkley left legacies worthy of note:
I

n 1947, XERA was brought back to life in the form of a new station, XERF, licensed to Ramon D. Bosquez assigned to 1570 kHz on the radio dial with 100 kW and transmitting from the original XERA building in Ciudad Acuña.  "super-power" XERF operated as the most powerful radio station in the Western Hemisphere, the classic border blaster station with its own collection of outlandish and unsavory programs.  One of its stars was disk jockey "Wolfman Jack" on XERF beginning in 1962.  
Brinkley's wife Minnie continued to live in the Brinkley Mansion in Del Rio until her death in 1980.  It still stands today at 512 Qualia Drive, now designated as Texas Historic Landmark number 13015.  
LISTEN TO "HEARD IT ON THE X"